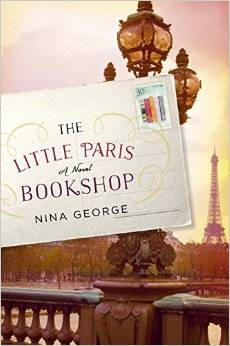 "Perdu reflected that is was a common misconception that booksellers looked after books. They look after people."
I admit, it sends me into a slightly irrational rage when people say they want good "summer reading" or "beach reading" because the connotations of that are that they only want light, fluffy books that won't make them use those braincells that they're about to fry by laying in the sun all day drinking tequila and red bull. Inevitably from June to August when I suggest a wonderfully moving or intense book I recently enjoyed, I am immediately rebuffed with exclamations of "too serious!" "too long!" "that looks heavy…" and other nonsense that makes me just wish summer was over so that 'summer reading' would be over too.
That said, "The Little Paris Bookshop" is probably the perfect 'summer beach read.' It's sweet and straight forward, engaging without being difficult – this little adventure follows Monsieur Perdu in his floating bookstore barge on a quest to figure out what happened with the love of his life all those years ago. She disappeared from his life, leaving behind only a letter that he has never been able to make himself open.
Perdu fancies himself a literary apothecary, subscribing books for what ails people – whether its loneliness, fear or self-doubt. He finds the books that will build them up, give them hope, confidence and a lust for life again. He finds the books they need to heal, but cannot find the book that will heal himself.
One day Perdu is forced to open the letter and learns that the ending of their relationship was not what he thought. Full of fresh grief and guilt – he flees by picking up anchor and traveling on his floating bookstore for the south of France.
In his travels Perdu picks up passengers, trades books for food/assistance, makes new friends and finally begins to heal.
An adorable story about a floating bookshop, the power of the written word and how far a little bit of love can spread – "The Little Paris Bookshop" is a delightful gem of a novel from start to finish, whether it's read on a beach or not.